Essex Designed AP Racing Competition Sprint Brake Kit
2013-2018
The Last BBK You'll Need
---
(0 Ratings)
(0 Ratings)
Thank you. You have rated this product.
Complete front Essex Designed AP Racing Competition Brake Kit for Subaru BRZ / Scion FR-S / Toyota GT86
SHIPS WITHOUT BRAKE PADS OR FLUID - Search Our Store For 7420 For Brake Pads
Features AP Racing CP8350 four piston calipers
299x32mm, 60 vane AP Racing disc
Saves unsprung lbs. from nose of vs. OEM brakes - Saves 20LBS! (Massive improvement to ride quality)
Every component designed to resist the heat of extended track sessions
Pistons sized properly to allow for seamless integration with OEM master cylinder and ABS system
Designed to work with OEM rear brakes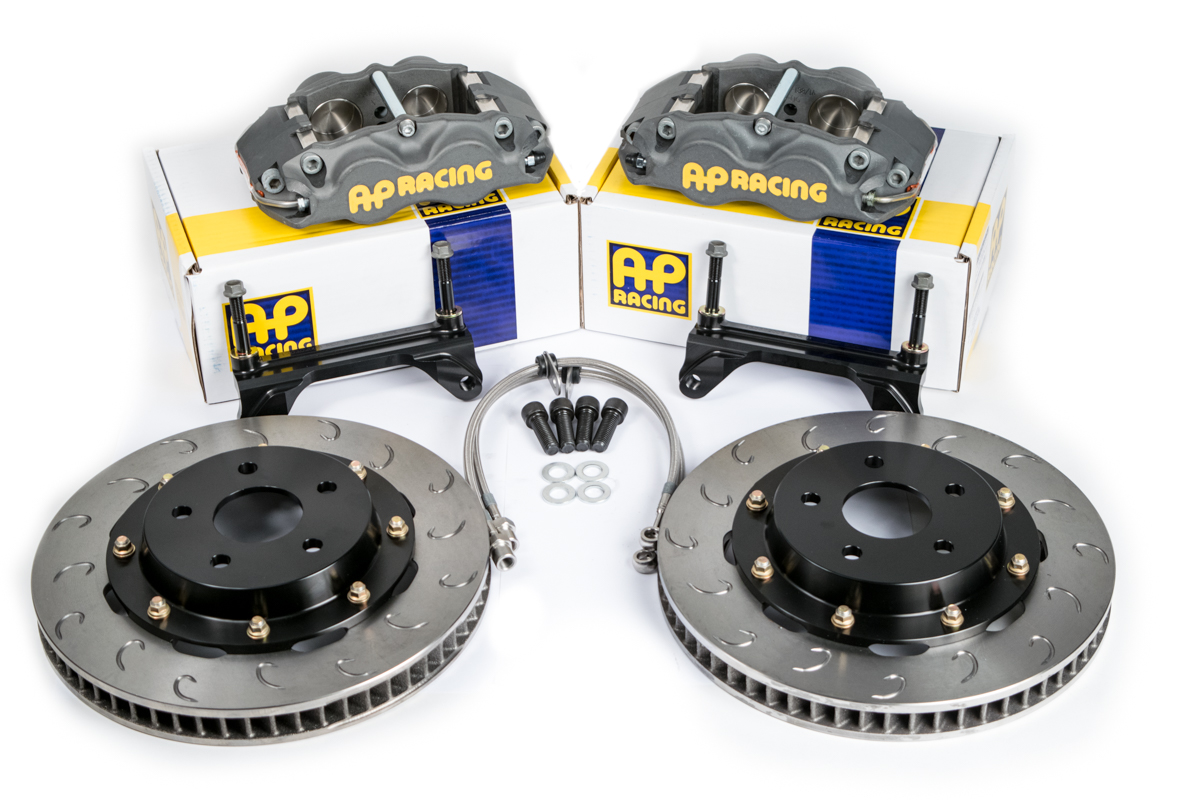 Each Essex designed AP Racing Spring Big Brake Kit Includes:
One pair AP Racing CP8350 racing calipers
One pair 299x32mm AP Racing CP3862, 60 vane, J Hook racing discs, with 6061 hard anodized aluminum hats, and attachment hardware
One pair caliper mounting brackets and hardware
One pair Spiegler Stainless Steel Brake Lines with abrasion resistant coating
INSTALLATION INSTRUCTIONS. (Click this link.)
Sean's Application Notes:
The factory FT86 calipers are more than adequate for street and light autocross use but are woefully inadequate on big race tracks. Yes, you can add brake ducts and high quality race pads to your factory FT86 brakes but you will be fighting an uphill battle with repeated replacements throughout the season. If you are like me and like to set it and forget it, the Essex AP Racing Sprint BBK is the answer. With superior thermal capacity from the J-Hook rotors your brakes will stop your car lap after lap leaving the competition in the rear view mirror. Pair with your favorite race pad from Porterfield or Hawk and you won't be dissapointed.
Wheel Fitment Notes:
Confirmed wheels that fit without a spacer:
949 Racing 6UL 17x8 +40
Advan GT 18x9.5 +40 (So much clearance! 1.2+in)
Data R1R 17x8.5 +35
Enkei NT03+M 17x7.5 +35
Enkei PF01 17x8 +45
Enkei Raijin 18x8 +45
Enkei Raijin 18x8.5 +45
Enkei RPF1 17x7.5 +48
Enkei RPF1 17x8 +35
Enkei RPF1 17x8 +42
Enkei RPF1 17x8 45
Enkei RPF1 (very tight fit, but works) 17x9 +35
Enkei RPF1 18x9.5 +38
Enkei Fujin 17x7.5 40
Konig Hypergram 17x8 +40
Kosei K4R 17x8 36
Mach V Motorsports "Awesome" wheel 17x9 42
OZ Ultraleggra 17x8
OZ Ultraleggera 17x8 +48
Prodrive GC010E 17x7.5 +38
Racing Hart CP035 17x7.5 ET48 (very tight 1mm clearance)
Rays CE28N 18x7.5 47
Rays Gramlights 57DR 17x9+35
Ray's Gramlights 57DR 17x9 +38
Rays Gram Lights 57Xtreme17x9 +40
Rota Titans confirm 17x9 +42
Sparco Terra 16x7 +50
Sparco (designed by OZ) Assetto Gara 17x7.5 48
SSR GTF01 18x8.5 +44
SSR GTV02 18x9.5 +40
SSR Type C 16x7.5 +35
Subaru OEM STI Wheels (2004) 17x7.5 53
Subaru OEM BBS STI Wheels from 2016 Series.Hyperblue
Team Dynamic 1.2 17x7 38
TSW Bathhurst 17x8 +35
TSW T66F 17 x 8.0 +42
TSW T66F 18x8.5 +44
TSW Nurburgrings 17x8 +45
TRD 15 Spoke 17x7.5 +43
Volk CE28N 16x8 +42
Volk CE28N 17X7.5 +35
Volk CE28n 17x7.5 +50
Volk CE28N 17x8.0 +44
Volk CE28RT 18X9.5 +38
Volk CE28RT 18X9 +43
Volk Racing RE30CS2 18x9.5 +40 (About 0.5-0.7in of clearance!)
Volk Racing TE37RT 17x9.5 +40
Volk se37k 17x7.5 +48
Volk se37k 17x8 +35
Volk Racing TE37 16" x 7 +46
Volk TE37 17x8 +35
Volk TE37SL 17x9.5 +45
Volk Trophy 18x8.5 +42
Volk Racing ZE40 18x10" +40
Wedsport sa67 18x9 +36
Wedsport TC105n 17x9 35
Wedsport TC105n 17x8 +42
18" Work Meister S1R O-disk (O disk is least clearance disk, so A/R/T will fit as well)
Work Ultimates 18x8.5 +47
Work Meister S1R 17 with at least an A centre disc
XXR 17x8.25 +35
The wheels below will fit with a spacer of the specified thickness:
2013+ USDM OEM BRZ or FR-S front wheels, 10mm spacer
OEM NZDM Gt86 (by enkei)16x6.5 +48, needs at least 8mm spacer
BBS RK 17x7 +48, needs 10mm spacer
SSR type-c 16x7 +48, needs 5mm spacer
Volk Racing TE37 18x7.5 +48, needs 5mm spacer
Volk TE37 17x7.5 +48, needs 3mm spacer
Curious about the install, check out our own Sean Thomson and his install of the Essex BBK on his Toyota 86!
*** Product images may differ from actual product appearance ***